November 15, 2023
Posted by:

admin_IT

Category:

Questionnaire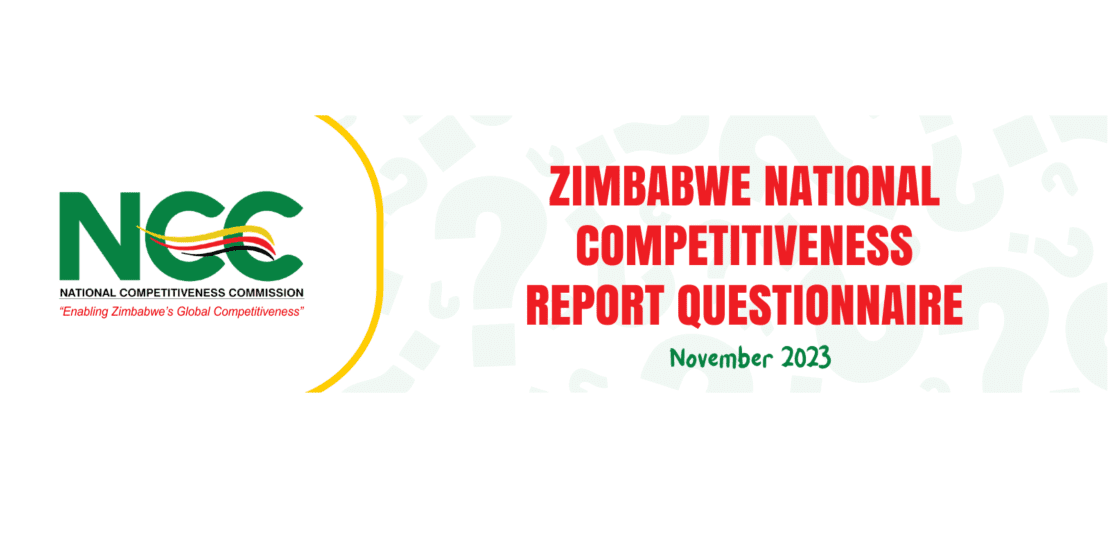 The National Competitiveness Commission (NCC) is a statutory body established by an Act of Parliament [Chapter 14:36] of 2017 and falls under the purview of the Ministry of Industry and Commerce (MoIC).
The Commission's Terms of References, as stipulated in the Act, explicitly require it to produce Annually Benchmarked National Competitiveness Report in consultation with relevant stakeholders across key sectors of the economy. This is in line with the objectives of the National Development Strategy I (NDS 1) (2021 – 2025), of a new development trajectory to achieve an Upper Middle-Income Society by 2030, for an empowered and prosperous Zimbabwe.
This requires economic transformation that promotes competitiveness to achieve and sustain economic growth and equal opportunities for all. Strong growth is key for sustainable development, and there is need to address systemic structural changes that can boost investment, enhance competitiveness, strengthen risk resilience and harness opportunities arising from technology adoption in all sectors of the economy.
Therefore, the Report provide evidence-based research, policy, and regulatory analysis to advise on measures that enhance national productivity and global competitiveness.
To this end, the Commission is in the process of developing the 2023 Zimbabwe Competitiveness Report (ZCR), which seeks to identify key competitiveness gaps and productivity challenges facing the economy and provides appropriate policy recommendations to achieve the objectives of the NDS1.
The development of the 2023 ZCR will thus offer participants the opportunity to take stock of progress over the last years, share insights on the present landscape and identify innovative approaches to enhance national productivity and competitiveness and bring about sustainable development in the future.
In this regard, the Commission is undertaking this critical survey, wherein as an important stakeholder your views will in form the 2023 Report, as well as policy proposals and strategies to enhance the country's competitiveness.
Click the link below to complete the survey;
https://forms.gle/GLxQFLVh8rT7NPZZ7